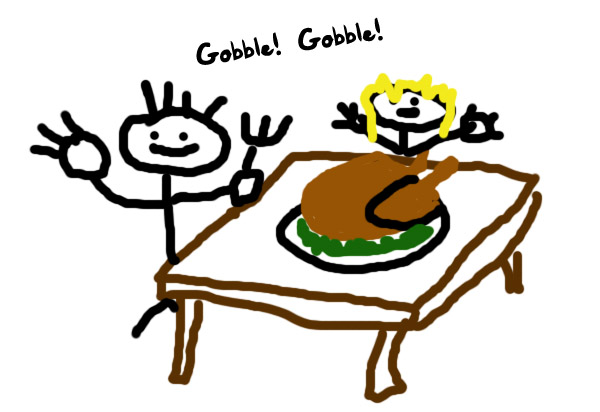 I'm 8 years old. This means that every year on Thanksgiving I sit at the kid's table. Your parents will try to make it sound like the grown-up table is better. The truth is everyone wants to be at the kid's table on Thanksgiving. Some reasons are obvious like, no one is arguing about "politics" or discussing boring "news."  And does anyone need to hear Grandpa talking about how things were better when he was a kid? No. We know it wasn't better when Grandpa was a kid. No iPhones. No On Demand movies. No cars. No planes. Everything was in black and white. No, thanks!
While the kid's table at Thanksgiving is the place to be, there are some dangers in sitting at a fold-out card table with kids probably pumped up on pie and Cool Whip. Who can forget the card table crash of 2012? Jennifer had outstayed her welcome at the kid's table that year. She was a teen and everyone knows that 13 year old legs under a fold-out kid's card table is a disaster waiting to happen. Jennifer may have gotten the big side of the wishbone, but I doubt she wished for the crash that soon followed.
To help you enjoy the best Thanksgiving possible at the kid's table this year, here are a few tips:
Cut your own food. You're a kid, not a baby.
Remember when passing food, some items may be hot or heavier than you think.
Don't feed the dog from the table. Mom says that she has a "stomach thing" right now.
Don't mention Frozen to Sophia.
Don't mention Minecraft to Ethan.
No "My Little Ponies" on the table. Sorry, llittle sis.
Don't be a Jennifer and kick out the legs of the card table.
If you see someone hiding their vegetables in their napkin, you keep it to yourself. What happens at the kid's table, stays at the kids table.
No parents allowed.
And last, but not least, be thankful you're a kid.
Happy Thanksgiving!